The IDP Rising Schools Program seeks to holistically serve under-privileged low-income schools in Ghana.  As part of this Program, the IDP Foundation contracted Sesame Workshop, the American educational institution that created Sesame Street, to design ten 10-minute videos for teacher education.In May 2012, the program entitled Techniques for Effective Teaching was formally introduced by Irene Pritzker, the President of the IDP Foundation, Inc., and H. Melvin Ming, President and CEO of Sesame Workshop, during the UNESCO-hosted panel discussion "Impact of Public-Private Partnerships in Education: An Evidence-Based Approach."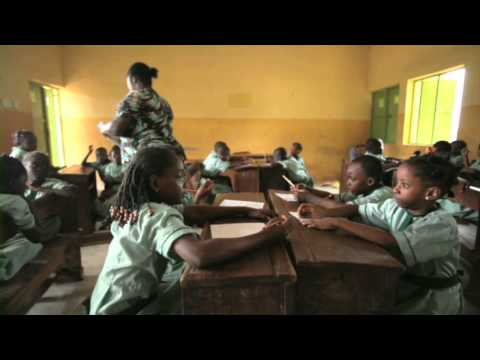 The videos seek to promote child-centered, active teaching and learning in the classroom by focusing on ten key areas:
The Fundamentals of Teaching
Developing a Child-Friendly Classroom
Positive Discipline and Classroom Management
Developing and Teaching with Creative, Low-Cost Resources
Pupil-Centered Learning in English Literacy
Pupil-Centered Learning in Mathematics
Time Management
Practical Ways to Make the Classroom Creative and Fun
Differentiated Instruction
Evaluation and Assessment
To view the Teachers Guide click here.
To view the Summative Evaluation Report Summary click here.
To view an excerpt of the video from Module 2, "Developing a Child-Friendly Learning Space," click the video link below
These photos show a glimpse into the Teacher Training provided by Sesame Workshop.